Holding events inside convention centers can easily get stuffy or boring especially when the weather is so great outside. So, why settle indoors when you can take your meetings to lush gardens, overlooking rooftop spaces, or even a cruise?
Following are the five unique venues you should be considering if you want to leave a good lasting impression on your delegates:
1. Nami Island / Gangwon
Who knew you could have a whole island exclusive for your event? Located an hour away from Seoul, Nami Island is an ideal venue for those looking for something different but not far from the city. It has several meeting spaces, both indoors and outdoors, that can accommodate a maximum of over 9,000 people.
Other than that, this place offers exciting outdoor activities your delegates can enjoy after meetings. It can range from an adventurous zip line, a craft experience program, to a relaxing stroll along the river.
Main Events held at Nami Island:
• 2017 Cultural Industry Coexistence Forum
• 2016 The Society of Golden Keys Korea Workshop
• 2011 Korea-China-Japan Ministerial Meeting
Website: https://namisum.com/en/

2. Some Sevit / Seoul
How does a man-made floating island sound for a unique venue? Situated alongside the Han River, Some Sevit is a culture complex, divided into three buildings, which can be used as a venue for both local and international events. Not only does it offer an indoor convention hall which can fit a total of 1,000 people but it also has other options, including a rooftop garden that offers panoramic views of urban Seoul.
For the best experience, host your event here at night as the place transforms magically with its LED-decorated exterior and gets a stunning backdrop of the Rainbow Fountain Bridge, Namsan Tower, and Hangang River.
Main Events held at Some Sevit:
• 2017 IFAWPCA
• 2016 Korea-Africa Economic Cooperation Leaders
• 2016 US Embassy Independence Party
• 2015 World Women Economic Forum
• 2014 3rd Congress of the World Conference on Constitutional Justice
Website: http://www.somesevit.com/en/index.do

3. Hwangnyongwon / Gyeongju
Combine traditional culture and modern design, and you've got yourself an incredibly immersive venue that will definitely give that "wow" factor to your delegates. Hwangnyongwon is designed to resemble a pagoda. It was formerly used solely for corporate retreats; however, it started hosting business events after being designated by KTO as one of Korea's Unique Venues.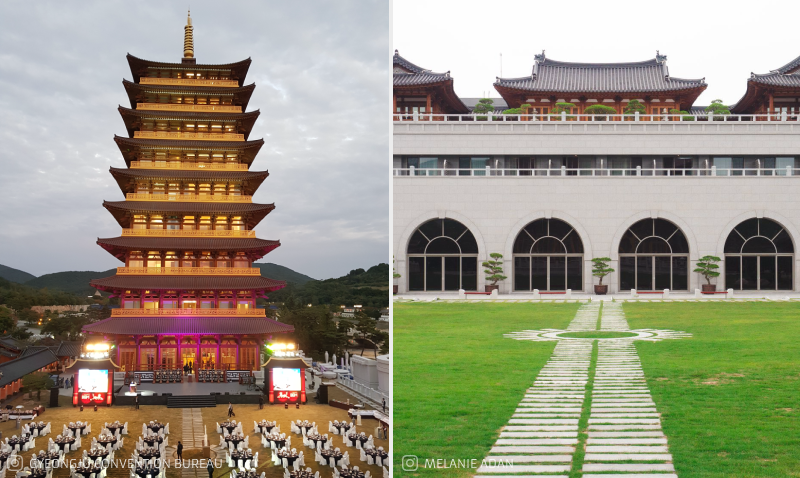 It can fit 400 – 500 guests on its outdoor lawn plaza which easily connects to an indoor convention hall, adding more space to accommodate more people. Apart from garden parties, guests will also have access to its meditation rooms that offer spectacular views of Korea's ancient capital, Gyeongju.
Main Events held at Hwangnyongwon:
• 2017 Korea International Water Week
• 2017 World Korean Food Contest
• 2017 WANO BGM event
• 2016 15th Korea-Germany Forum Cultural Exchange event
Website: http://www.hwangnyongwon.com/ (Korean only)

4. Spirited Garden / Jeju
Decorated with bonsai trees, man-made waterfalls, and Korean hanoks, the Spirited Garden in Jeju easily creates a relaxed atmosphere, perfect for holding events and gala reception for up to 300 people. The garden consists of 7 theme gardens and various auxiliary facilities on an area of 39,669 square meters.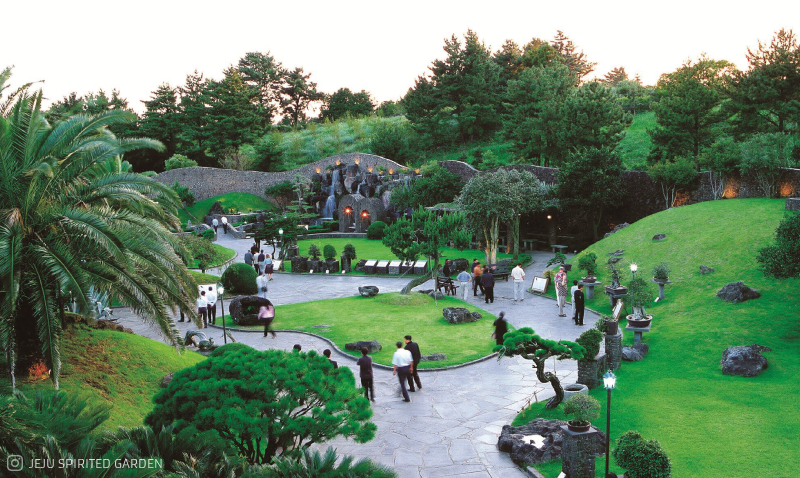 Rain or shine, night or day, nothing can stop from hosting business events here. The garden is well equipped with mood-lighting to create that subtle, formal atmosphere while its Mongol tents can be used as a canopy when it rains.
Main Events held at Spirited Garden:
• 2016 World Congress on Minimally Invasive Spine Surgery and Techniques Association (WCMISST)
• 2013 Asia National Tax Service dinner
• 2013 New Era Health Industry Group Reception
• 2012 WorldSkills Competition General Assemble Dinner
Website: http://www.spiritedgarden.com

5. Hyundai Cruise / Gyeonggi & Incheon
This luxury cruise takes you along Gyeongin Ara Waterway, Korea's first man-made canal. While on the ship, delegates can see performances such as magic and live entertainment while enjoying a delicious meal.
To top it off, a spectacular musical fireworks display is done right before the guests leave the cruise.The cruise can accommodate from around 300 passengers in banquet style to 500 passengers in theater style.
Main Events held at Hyundai Cruise:
• 2018 YG-1 Global Seminar
• 2017 Badan Kebajikan Kakitangan IBU Pejabat UMNO
• 2017 Hana Tour Exhibition China Global Business Division Gala Dinner
• 2017 META Conference Gala Dinner
Website: www.aracruise.co.kr
For more information on the story, please write to neha@experientialplanner.com with details of your brief so we can loop you in with the right person/s.