Traveling to Korea during autumn is like stepping into a fairytale, thanks to its abundant parks and scenic landscapes that are bursting of eye-catching colors of bright reds, golden yellows, and dark oranges. With pleasant weather settling in, you can enjoy tons of festivals across the country from October until December.
Continue reading below to discover some of the most enchanting places your group can visit in Korea this season.
Olle Trail in Jeju
 Grab a pair of boots, put on your padded jackets, and get ready to walk with nature! Jeju Olle-gil is a series of walking trails stretched along the entire coast of the island. There are a total of 16 pathways to choose from and they vary according to difficulty, duration, or length. These trails will have you meander through woods, pass by popular attraction sites like the UNESCO World Natural Heritage Seongsan Ilchulbong, or enjoy stunning views of the ocean. For starters, Jeju Olle Trail recommends Routes 1,6,7, and 18 – its most popular trails among foreigners.
Haeinsa Temple in Gyeongnam
 Nestled at the foot of Gayasan mountain is Haeinsa, one of Korea's most valuable and representative temples. This century old temple is home to hundreds of cultural properties including two national treasures of Korea, the Tripitaka Koreana (National Treasure No. 32) and the Janggyeong Panjeon (National Treasure No. 52). If you have some days to spare, take a breather and join their temple stay program.
The Garden of Morning Calm in Gyeonggi-do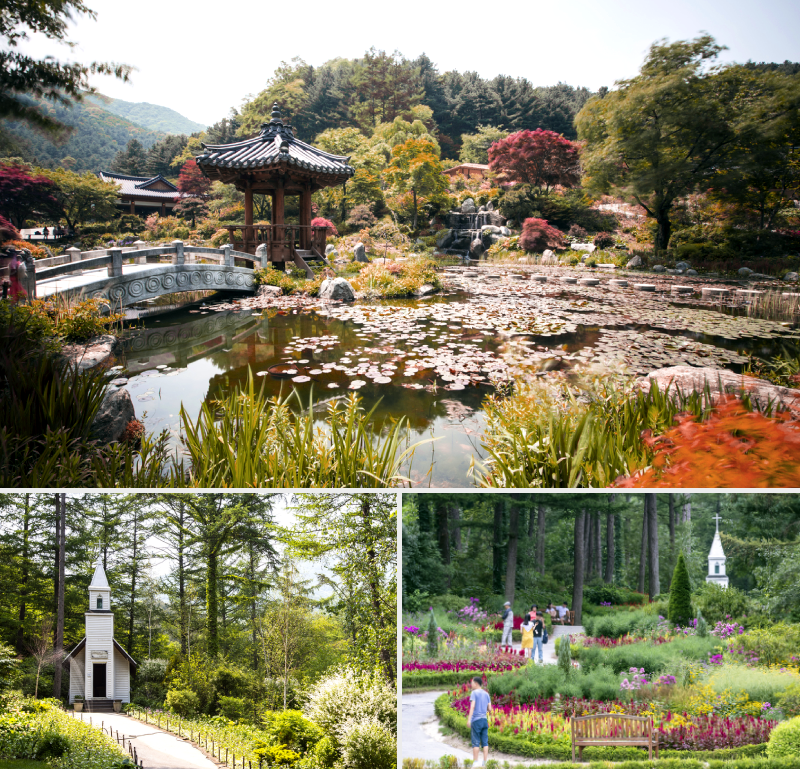 Located just half an hour away from Seoul is Korea's oldest private garden. The Garden of Morning Calm is home to over five thousand kinds of plants, displayed in twenty different themed sections, over a 30,000 square meter plot. With flowers blooming all year round, it is no surprise that it is a favorite location site of many popular Korean television shows or films (i.e. Infinite Challenge, You're Beautiful, etc.).
Chuncheon Mulle-gil in Gangwon-do

Head over to Chuncheon Mulle-gil and choose from a variety of activities like fishing and canoeing. Uiamho Lake's mellow waters and lush mountains splashed in autumn hues offer a relaxing ambiance and enchanting views. Before traveling back to Seoul, don't forget to visit Chuncheon Myeongdong Dalkalbi Street and enjoy a meal of the city's specialty food.
Suncheonman Bay Wetland Reserve
How would you like to wander through a field of reeds, taller than a full grown man? The Suncheonman Bay Wetland Reserve is one of the world's top five coastal wetland. You can take the Suncheon Bay Boat Ferry or make a quick hike on top of Yongsan Observatory for a spectacular panoramic view of the bay. While you're here, the Naganeupsong Folk Village is a place worth visiting in Suncheon. Here you will see for yourself well-preserved traditional Korean houses which date back to 1397 and mingle with locals for some cultural activities as well. Also, the village has been designated as a UNESCO World Heritage Site and was pronounced by CNN Travel as the 16th most beautiful place to visit in Korea.
For more information on this story, write to neha@experientialplanner.com with details of your brief so we can loop you in with the right person/s